Algorithms for Quantum Computing: Quantum dynamics and electronic structure
---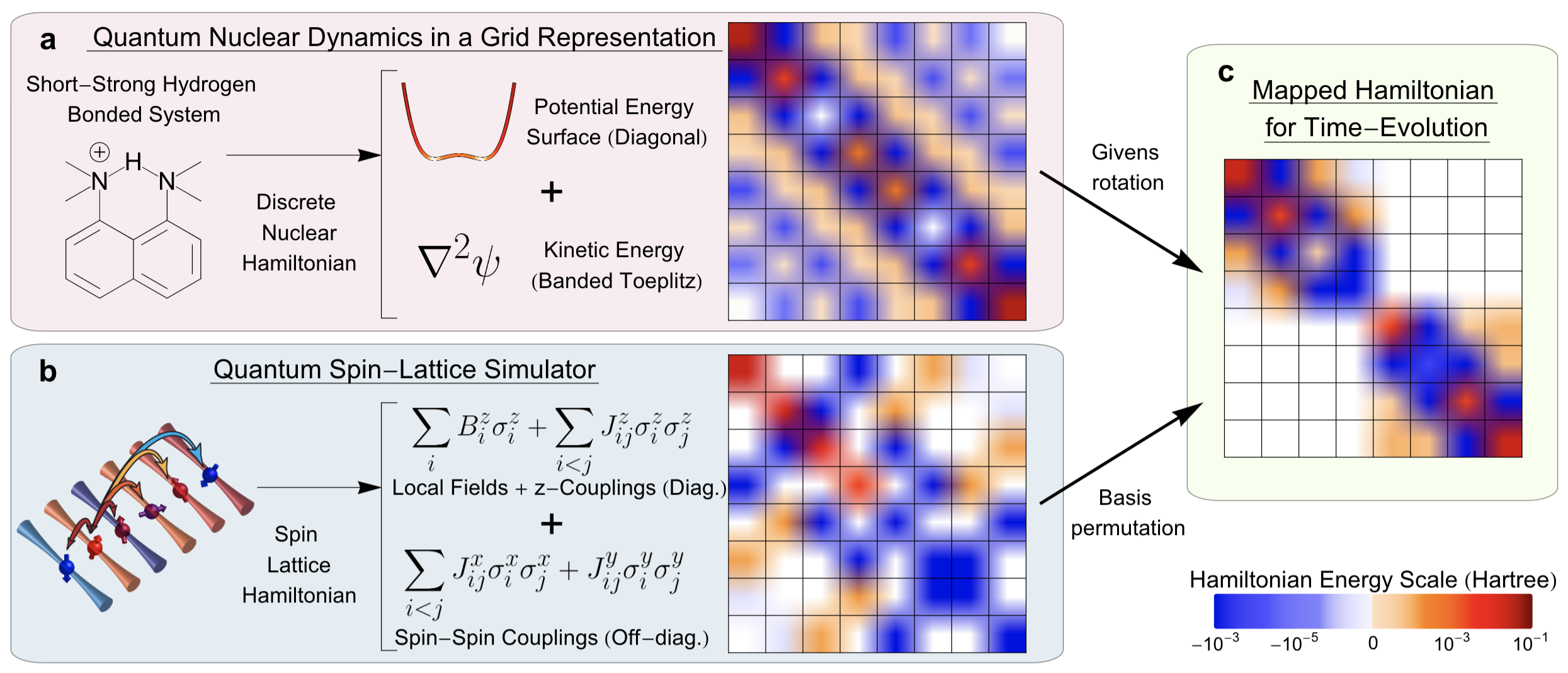 Representative publications
72

Graph-|Q⟩⟨C|, a Graph-Based Quantum/Classical Algorithm for Efficient Electronic Structure on Hybrid Quantum/Classical Hardware Systems: Improved Quantum Circuit Depth Performance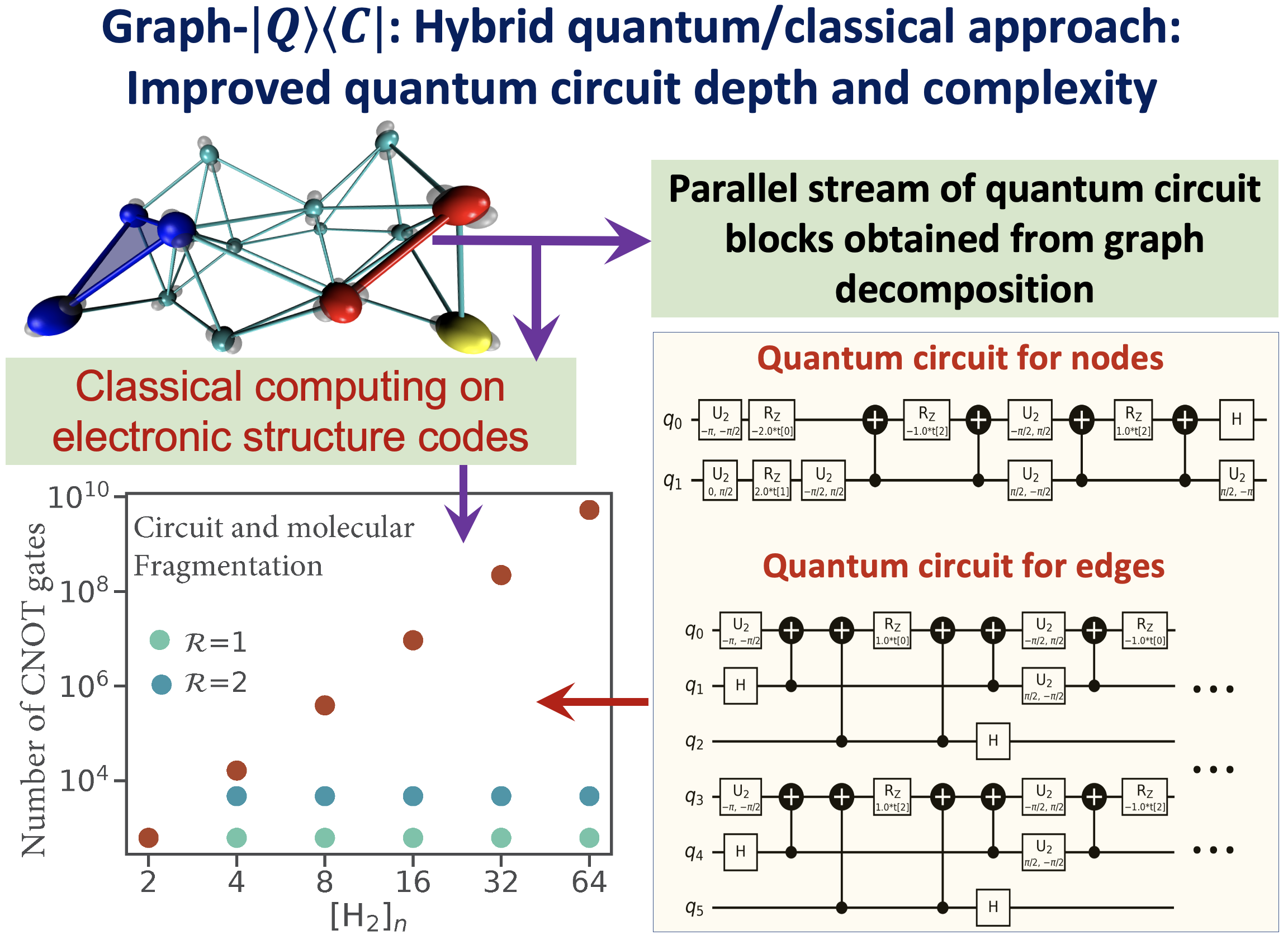 Juncheng Harry Zhang, and Srinivasan S. Iyengar, J. Chem. Theory and Comput. Article ASAP, 10.1021/acs.jctc.1c01303 (2022). Summary: Recently, multiple quantum computing technologies have emerged as potential alternative computational platforms to address complex computational challenges. Additionally, algorithms to approximate electron correlation problems, for small molecular systems, and quantum nuclear dynamics problems have been implemented on quantum hardware devices. However, application of standard quantum circuit models to treat electronic structure problems leads to a rapid increase in the circuit depth and the number of quantum gates. This contributes greatly to the accumulated error during quantum propagation. This paper outlines a new hybrid quantum+classical algorithm based on a graph-theoretic approach to molecular fragmentation and is geared toward performing electron correlation calculations, potentially on an ensemble of quantum and classical hardware systems. The algorithm studied here is referred to as the "Graph-|Q⟩⟨C|" algorithm since it contains an independent set of classical and quantum algorithmic components inside a single umbrella. That is, the overall computational workload is partitioned, through graph theory based on computational complexity analysis, into (a) classical computing sections that are carried out on traditional classical electronic structure packages, and (b) quantum computing sections that are carried out using quantum circuit models. Furthermore, the Graph-|Q⟩⟨C| algorithm is quantum hardware-agnostic and is developed with the goal to be implemented on all quantum hardware technologies, and, in fact, is designed to be used on an ensemble of such quantum hardware systems for any given calculation. In essence, our Graph-|Q⟩⟨C| algorithm yields a new approach that reduces the required quantum circuit depth, the number of quantum gates, and the number of CNOT gates (by several orders of magnitude) that contribute to error accumulation, through a graph-theory-based projection operator formalism. Thus, given this reduction, our algorithm, potentially improves the quantum algorithmic efficiency, provides a new avenue for quantum resource management, and also reduces the accumulation of errors during the demonstrated electronic structure calculations on quantum hardware. Given the limitations of quantum circuit gate fidelities within the gate model, this algorithm, we expect, will become a central piece in the quantum/classical computing of chemical systems.
---
71

Mapping quantum chemical dynamics problems to spin-lattice simulators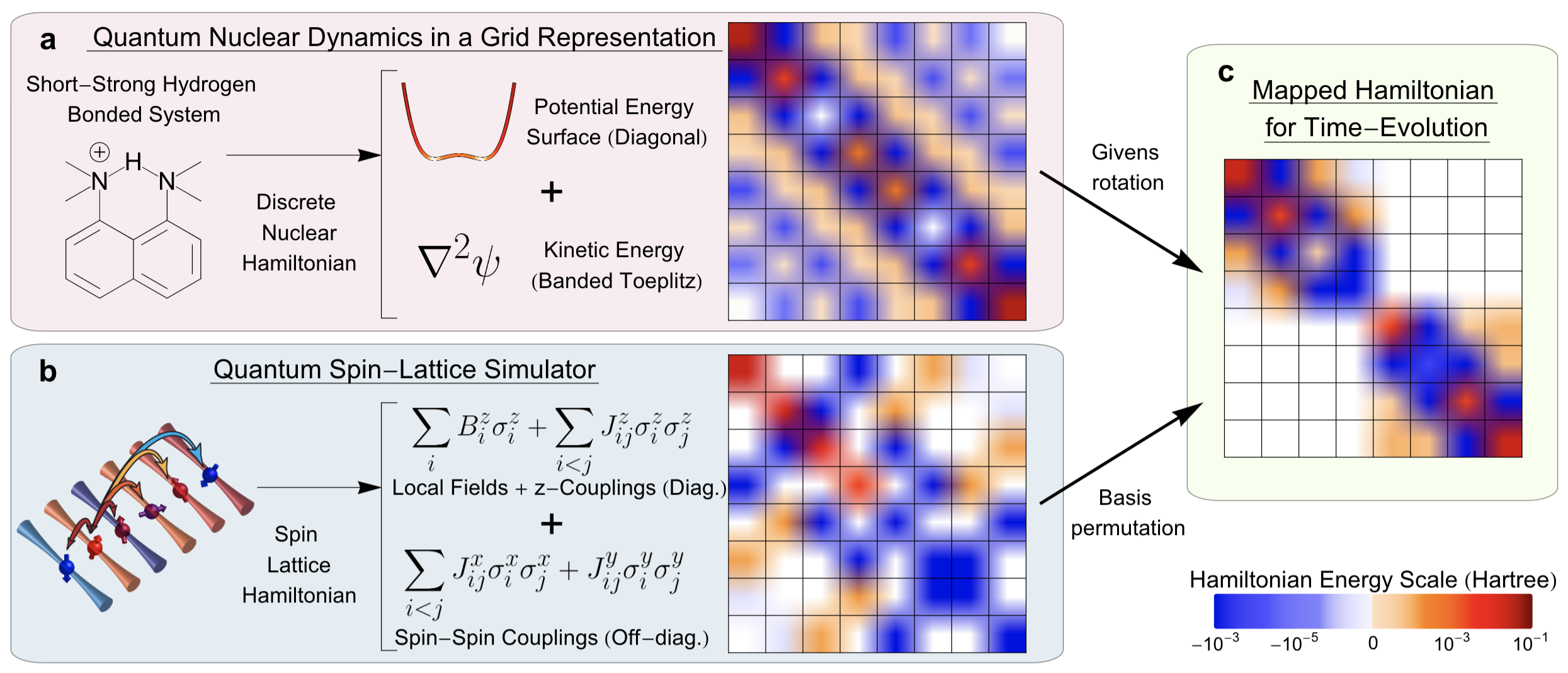 Debadrita Saha, Srinivasan S. Iyengar, Philip Richerme, Jeremy M. Smith, and Amr Sabry, J. Chem. Theory and Comput. Articles ASAP. (2021). DOI: https://doi.org/10.1021/acs.jctc.1c00688
Summary: The accurate computational determination of chemical, materials, biological, and atmospheric properties has critical impact on a wide range of health and environmental problems, but is deeply limited by the computational scaling of quantum-mechanical methods. The complexity of quantum-chemical studies arises from the steep algebraic scaling of electron correlation methods, and the exponential scaling in studying nuclear dynamics and molecular flexibility. To date, efforts to apply quantum hardware to such quantum chemistry problems have focused primarily on electron correlation. Here, we provide a framework which allows for the solution of quantum chemical nuclear dynamics by mapping these to quantum spin-lattice simulators.
---
37

Analysis of Hydrogen Tunneling in an Enzyme Active Site Using von Neumann Measurements

I. Sumner and S. S. Iyengar, "Analysis of Hydrogen Tunneling in an Enzyme Active Site Using von Neumann Measurements" Journal of Chemical Theory and Computation 6 , 1698 (2010).